Toronto, the capital city of Ontario, Canada, is a bustling metropolis with plenty to see and do. It's Canada's largest city and the fourth largest city in North America. It has one of the most iconic skylines of any city worldwide, with the CN building towering over its many skyscrapers. Millions of people live in Toronto, enjoying its unique activities, features and atmosphere.
The city is a great place to jump-start a new career, pursue post-secondary education or get a fresh start. If you're thinking of moving to Toronto, permanently or temporarily, you'll need to consider its cost of living, weather, activities, transportation options and other crucial factors. Use this guide to learn all about living in Toronto.
How Expensive Is Toronto Compared to Other Cities?
If you're considering moving to a new city, a cost-of-living comparison can be an excellent place to start. Misconceptions about costs of living are widespread. Many think Toronto is an unaffordable place to live. In reality, Toronto's cost of living sits somewhere between the major cities of the world — most cities are more expensive to live in than their rural neighbors, as space is a more competitive resource. Living in Toronto may be costlier than living in these cities:
Houston
London
Washington, D.C.
Though Toronto has a higher overall cost of living than some cities, it's more affordable than others. Here are a few major cities that have a higher cost of living than Toronto:
Beijing
Copenhagen
Hong Kong
Los Angeles
Melbourne
New York City
Seoul
Shanghai
Shenzhen
Singapore
Sydney
Vancouver
Zürich
Major cities tend to have higher living costs than rural areas, but their amenities and opportunities justify these. Many students and young professionals have been flocking to Toronto to boost their careers and experience city life in Canada.
Things to Consider Before Moving to Toronto
Before you move to a new city, you'll need to acknowledge various factors to help you pack and prepare as needed. Here are a few things to think about if you're considering moving to Toronto.
Moving Costs
Moving anywhere can incur a few significant expenses. Depending on how far away you live, you might need an airline ticket to get there. You may also need to ship your belongings. You can save on moving costs by choosing a pre-furnished apartment, which is an excellent option if you want a fresh start or if you don't own furniture. It's a popular choice for college students, interns and young professionals.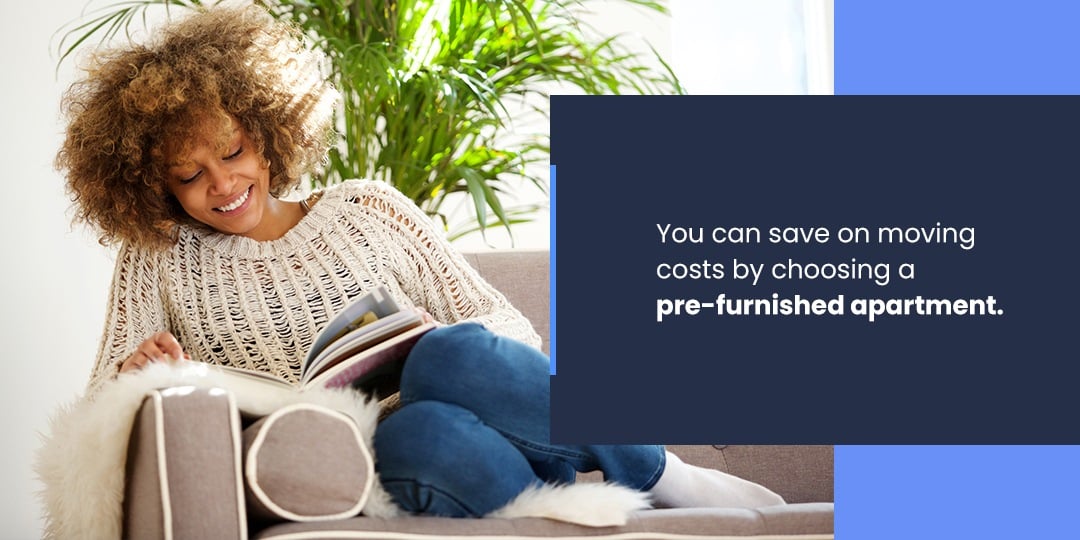 Transportation Options
You don't need to have a driver's license or own a vehicle to get around Toronto. Like most major cities, Toronto has an extensive public transportation system. The Yellow and Green subway lines operate every day of the week, with monthly pass programs to help you save money. Covering all areas the subway doesn't, streetcars and buses operate 24/7, getting you where you need to go downtown. For a healthier and more eco-friendly option, you can rent a bike from one of 300 stations or bring your bike from home. You could also opt for Uber, Lyft or cab rides.
Activities in Toronto
If you like to explore new activities and have adventures, you'll love living in Toronto. The city has plenty of activities to enjoy, including:
Dining experiences
Wine tastings
Brewery and pub tours
Museums
Aquariums and zoos
Helicopter rides
Dog sledding and snowshoeing
Day trips to Niagara Falls
You can also check out some of Ontario's most famous landmarks, including the CN tower, the Hockey Hall of Fame, the Art Gallery of Ontario and the Royal Ontario Museum, the country's largest. You'll also find plenty of parks and outdoor recreation areas, including High Park and Toronto Island Park, plus several conservatories, botanical gardens and beaches. With so many activities available, you'll always find a way to spend a weekend in Toronto. Be sure to budget for excursions and nights on the town if you want the complete Toronto experience.
Toronto's Average Weather
The weather in Toronto is cool year-round. Toronto's summer temperatures are mild, while winter temperatures are frigid. July, the hottest month of the year, averages around 70 degrees Fahrenheit. February, the coldest month, averages about 24 degrees Fahrenheit. Winter temperatures can dip into the negatives, while summer temperatures seldom exceed 80 degrees Fahrenheit. Precipitation is significant year-round, with an average annual rainfall of about 33 inches.
If you prefer chilly to mild temperatures and love snowy weather, Toronto will be perfect for you. If you're thinking of moving to Toronto, prepare for rain, snow and crisp, cold days. When packing, remember to bring:
Warm coats and jackets
Warm pants or thermal underwear
Snow boots with good traction
Winter accessories, like scarves, hats and gloves
Umbrellas and waterproof jackets for the rainy months
Lightweight clothing for the summer months
Housing Options in Toronto
If you're trying to figure out how to live in Toronto as a student or young professional, you may find average rent costs a bit overwhelming. Housing costs in Toronto can seem expensive if you're moving from a small town or just starting your career. University housing may offer inflated prices. However, several solutions will help you reduce your monthly living expenses.
You can find competitive housing prices for young people in Toronto. If you're a student or young professional, your best choice is Harrington Housing, with rates much lower than the average Toronto rent. These off-campus apartments are pre-furnished, so they're ideal for students or those beginning new careers. You can also choose from flexible lease terms, including short-term leases. That way, you'll be able to visit family over holidays or between semesters.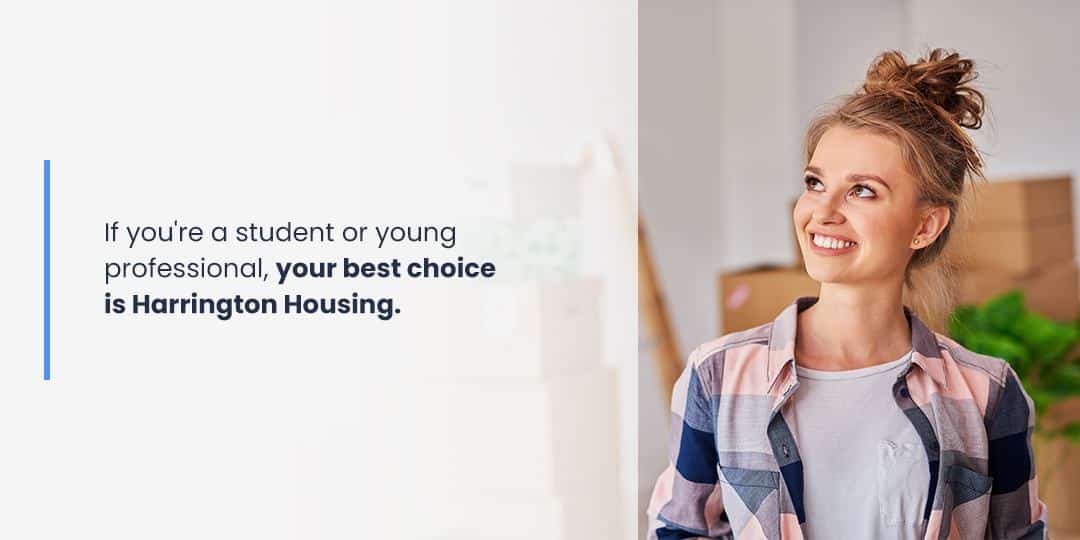 Transportation Options in Toronto
As mentioned above, public transportation is available throughout Toronto. You could use the subway lines, streetcars, buses, bikes or rideshares. The Toronto Transit Commission charges $3.25 for adult one-way tickets and $2.30 for senior or youth tickets — remember, the "youth" category extends to age 19, which includes many college students. Most residents who use public transit choose to buy a monthly pass at $156 per month for adults and $128.15 for seniors and youth. If you plan on using public transit often, monthly passes are a great way to save money.
If you prefer not to use public transit, you could drive yourself. Keep in mind the costs associated with parking and buying gas. Remember, you could also use bike shares or save money by bringing a bike along with you. Depending on where you live and work, many destinations will be a reasonable bike ride away.
Toronto's Average Living Costs
If you're wondering how much it costs to live in Toronto, you'll have to consider all regular and one-time expenses beyond housing and transportation. Here are some of the average living costs for Toronto residents.
Groceries: Groceries are one of the most considerable living expenses in any city. In Toronto, you might spend a few hundred dollars a month on groceries. Note the average costs of everyday items — a loaf of bread tends to be about $2, a dozen eggs about $2.60 and a pound of chicken fillets about $5. If you smoke cigarettes, expect to spend about $12 on a 20-pack.
Dining out: You might occasionally want to dine out with a date, friends or co-workers. A meal at an inexpensive restaurant averages about $15. For a two-person, three-course meal, you might spend about $70. You may also want to stop for coffee or fast food now and then — a regular-sized cappuccino is about $3.50, and a combo meal at a fast-food restaurant will be about $8.60.
Sports and exercise: Many choose to purchase memberships to a gym or recreation center. Note that these memberships can be more expensive in large cities than they are in small towns. A gym membership in Toronto averages about $45 per month. If you're a student, you may have access to an on-campus gym with the cost of membership included in your tuition. If you're starting a career in Toronto, ask your employer about exercise stipends or company gym membership discounts.
Clothing and shopping: How much you spend on clothes and other goods will depend on where you choose to shop, of course, but the average cost of a pair of jeans is about $60. To save some money on everyday items, you might shop at secondhand stores.
Nightlife and Dining in Toronto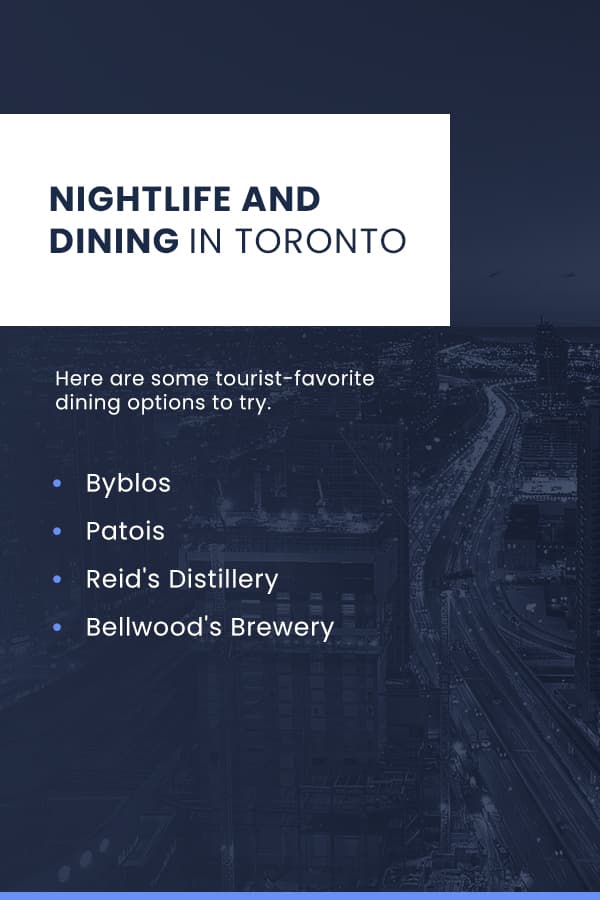 Toronto offers plenty of exciting options for an evening or night out. If you're a foodie, you'll appreciate the wide selection of restaurants, wineries and breweries available, with average prices ranging from inexpensive to more extravagant. Here are some tourist-favorite dining options to try.
Byblos: Byblos is a popular Eastern Mediterranean family-style restaurant, perfect for a night out with friends.
Patois: For Caribbean-style dining with a party atmosphere, Patois takes its name from the dialect spoken primarily in Jamaica.
Reid's Distillery: With a cocktail bar and lounge, Reid's Distillery is a friendly place to socialize and taste new drinks.
Bellwood's Brewery: Bellwood's Brewery offers plenty of craft beer options to sample.
In addition to Toronto's many dining options, the city offers exciting nightlife opportunities. For a little after-hours adventure, you can enjoy Toronto's nighttime hotspots and bars, like these.
The Drake Hotel: Hosting concerts, DJs, touring acts, slam-poetry sessions and other events, the Drake Hotel is one of the best places to spend an evening in Toronto.
The Royal Ontario Museum: The famous museum hosts Friday-night activities, including seasonal events and dance parties. It's a popular attraction for tourists and residents alike.
Get Well: With an extensive list of craft and bottled beers, Get Well's bar also features a North of Brooklyn Pizzeria. You can grab a bite to eat and try a few beer selections.
The Piston: Hosting decades-themed dance parties, The Piston offers a bar, a dance floor and a friendly, casual environment. It's a popular spot for young people in Toronto.
Toronto Resident Average Salaries
Before moving to a new city, you might want to consider its residents' average salary compared to its cost of living. The average monthly salary in Toronto is $3,285.30 after taxes. The living wage in Toronto is about $22.08 per hour, or about $3,532 per month. In other words, the average resident earns a little more than enough to meet their basic needs. As long as you bring in an average salary or higher, you should be able to afford life in Toronto.
Toronto's University Costs
Toronto is an ideal place to pursue an education, home to several renowned universities and colleges. It's a popular destination for international students from all over the world. In general, tuition costs in Canada are less expensive than those in the United States, the United Kingdom and Australia. International undergraduate students in Ontario spend an average of $32,092.67 per year, with prices varying by subject, while international graduate students spend an average of $19,792.02. Note that government aid is not available for international students — tuition fees are much lower for Canadian residents. Here are some of Toronto's notable universities.
The University of Toronto: One of the world's most prestigious universities, the University of Toronto offers hundreds of programs in a wide range of subject areas. It's the top-ranked school in Canada and the 18th top-ranked school in the world. With a moderate acceptance rate, it's an excellent choice for undergrad and graduate students. The school's average tuition for international students sits at $43,878 per year. The school's reputation merits higher tuition fees than most other universities.
York University: A public research school, York University offers majors in liberal arts, sciences, engineering, business, law, education and other fields. With so much to offer, York University is the school of choice for over 55,000 students. It's an ideal option if you're looking for a large-college atmosphere in Toronto. International student tuition fees, depending on the program, vary from $29,572 to $31,598.
Ryerson University: Another excellent choice for a public research school, Ryerson University allows access to busy downtown Toronto. It surrounds Yonge-Dundas Square, perfect for exploring big-city life. The school provides many undergraduate and graduate programs in various fields. Tuition fees for international students range from $28,570 to $38,430.
Though international tuition fees can be high at prestigious Toronto schools, you can save money as a student by opting for less expensive lifestyle choices, including living in furnished off-campus housing and biking or using public transit.
Contact Harrington Housing for Affordable Housing in Toronto
Life in Toronto can be enriching, exciting and rewarding. If you're considering moving to Canada's largest city, you'll need to consider its costs of living, weather, available activities and other factors. Toronto is a vibrant, multicultural place to live, with many opportunities for education, adventure and socialization.
Like any major city, Toronto can be expensive, so affordable housing is a must for any new resident. If you're interested in saving money living in Toronto, consider Harrington Housing. We offer flexible lease terms and competitive prices in our fully furnished apartments. Are you ready to move to Toronto? Book an extended stay with Harrington Housing today. Stay with us as long as you need!