Moving is a challenging task in any circumstance. Packing your possessions, relocating furniture, and choosing what to get rid of is a stressful ordeal. Add COVID-19 to the equation, and moving is more complicated. Now, you have to consider your health and those around you as you change your living location.
You may be wondering, "Should I move during COVID-19?" It presents some risks. But finding effective ways to stay safe will help. Use this guide on how to safely move during COVID-19 to help your moving process during the pandemic.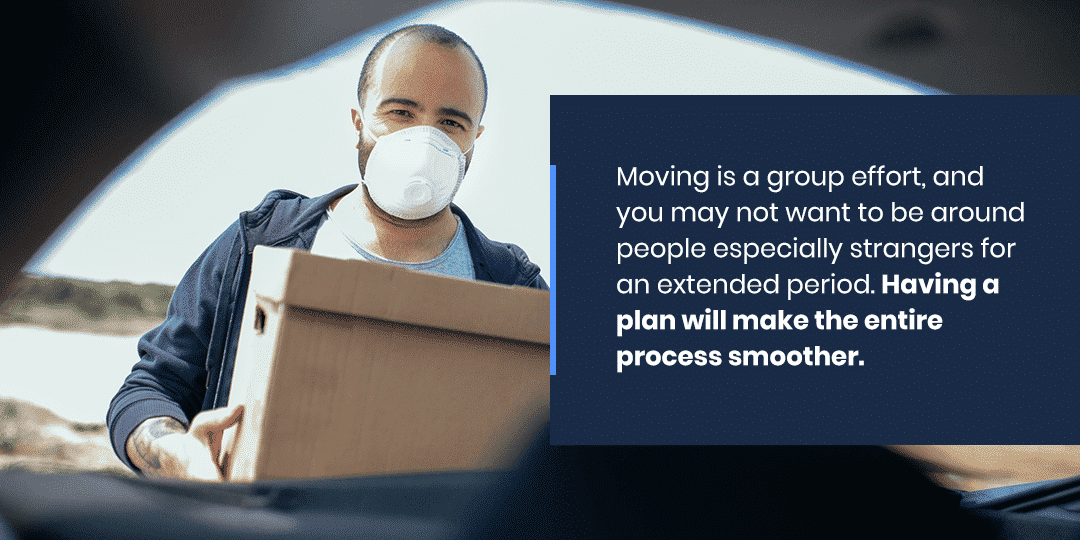 Make a Plan
As you approach the moving process, you need to have a plan. This tip is even more crucial during COVID-19. Moving is a group effort, and you may not want to be around people — especially strangers — for an extended period. Having a plan will make the entire process smoother.
Chances are, you'll be relying on other people to help you. Write out a schedule to help everyone know what to do and when to do it. Include the time when everyone should arrive and a rough idea of how the day will pan out. You may want to move larger items first or move one room at a time. With a schedule of events, the movers will know where to focus their efforts without much on-site planning and discussion.
With good coordination, everyone can show up at the correct time and get to work. Your goal should be to limit the amount of time people spend around each other to limit viral spread. While this can be tricky on moving day, it's much easier with a solid gameplan to guide everyone's teamwork.
Check Your State's Quarantine Policy
Moving has always been a bit of a challenge, but it was much simpler before the pandemic. Now, traveling and being around people can be nerve-wracking. Government mandates and local ordinances complicate what was once a straightforward activity. Instead of calling anyone to help you move, you need to express a little more caution. You should make calls and do your homework to find out how many people can perform the move together.
Besides remembering any applicable travel and gathering restrictions, you should consider your risk of spreading the virus. Have the movers undergone testing for COVID-19? Has anyone been around someone with a confirmed case within the past week or so? The last thing you want is to contribute to the spread. Make sure you check your state's website for more information on current COVID-19 mandates. Some states may have stricter quarantine policies than others.
Disinfect
While moving during a pandemic isn't ideal, you might find you need to for work or school. But necessity doesn't make the virus disappear. Is it possible to move without risking people's health? What about touching shared surfaces? Is it safe to team-lift heavy objects? You can take one straightforward action to reduce everyone's risk of spreading the virus — provide ample opportunities for everyone to disinfect and wash their hands throughout the move.
Get a few bottles of hand sanitizer for everyone to use throughout the day. Try putting them in easy-to-access locations, like by the front door, inside the garage or in whatever room you're emptying. You can even offer pocket-sized hand sanitizer bottles for everyone to keep on them at all times. That way, they can sanitize their hands even when they're not by a larger bottle.
During the packing phase, make sure to leave out a few bottles of hand soap. These will be essential on moving day. Keep a bottle of liquid soap by your bathroom and kitchen sinks for people to use at their convenience. Encourage everyone to wash their hands throughout the day, and let them know there's plenty of soap to go around. Correct hand-washing is one of the best ways people can slow COVID-19 spread, even on moving day.

Socially Distance
Social distancing has become a common term since COVID-19 appeared. Health experts recommend staying at least six feet apart from the nearest person to avoid viral transmission. Many people have experienced this phenomenon in action, including spreading tables apart at restaurants, keeping seats open on airplanes and putting space between desks at work. You may not stay six feet away from your immediate family while at home, but you should take part in social distancing on moving day to help keep everyone safer.
Friends, family members and professional movers alike should do their best to stay six feet apart. You can also encourage everyone to wear masks, as this practice can help slow the spread — particularly if you need to get close to someone to lift a heavy object.
These practices are especially crucial if you have high-risk family members who have more chance of suffering severe COVID-19 side effects. If you explain your commitment to socially distanced moving beforehand, everyone will be ready to join you.
Be Mindful of What You Need
Moving is one of the best times for people to go through their belongings. Getting rid of old clothing, furniture and other possessions can feel like a weight lifted from your shoulders. But now there's another reason to try to downsize. The fewer items you have to move, the less amount of time you'll have to spend moving.
Moving is smoother when you have fewer pieces of furniture to move. These are the most challenging items to move and often need several people to lift. Being so close to others can increase your risk of spreading COVID-19. As you plan your move, see if you can get rid of any pieces of furniture.
You may be asking, "Won't I need furniture where I'm going? Isn't furniture expensive?" The answer to both questions is yes. If you're looking for a new place to live, try searching for furnished apartments and rooms. You'll be able to get rid of unneeded furniture, making your move quicker and safer for everyone involved.

Moving During COVID-19 Is Easier With Harrington Housing
Harrington Housing offers furnished apartments and rooms in several major North American and European cities. These include the bustling metropolis of New York City, the Canadian city of Toronto, and even Washington, D.C., the U.S. capital. We specialize in providing furnished, off-campus housing for students and furnished apartments for young professionals.
Moving to a new city for the first time is exciting, but you might be nervous about doing so during a pandemic. Simplify the process by moving into one of our furnished apartments. Our leases are flexible, ranging from a single month to several years. Contact us today to book an extended stay with Harrington Housing!